All classes at GVAC Goleta – Santa Barbara are developed by the best in the industry and taught by talented instructors who inspire results. Unlimited classes to fit your goals included with your membership.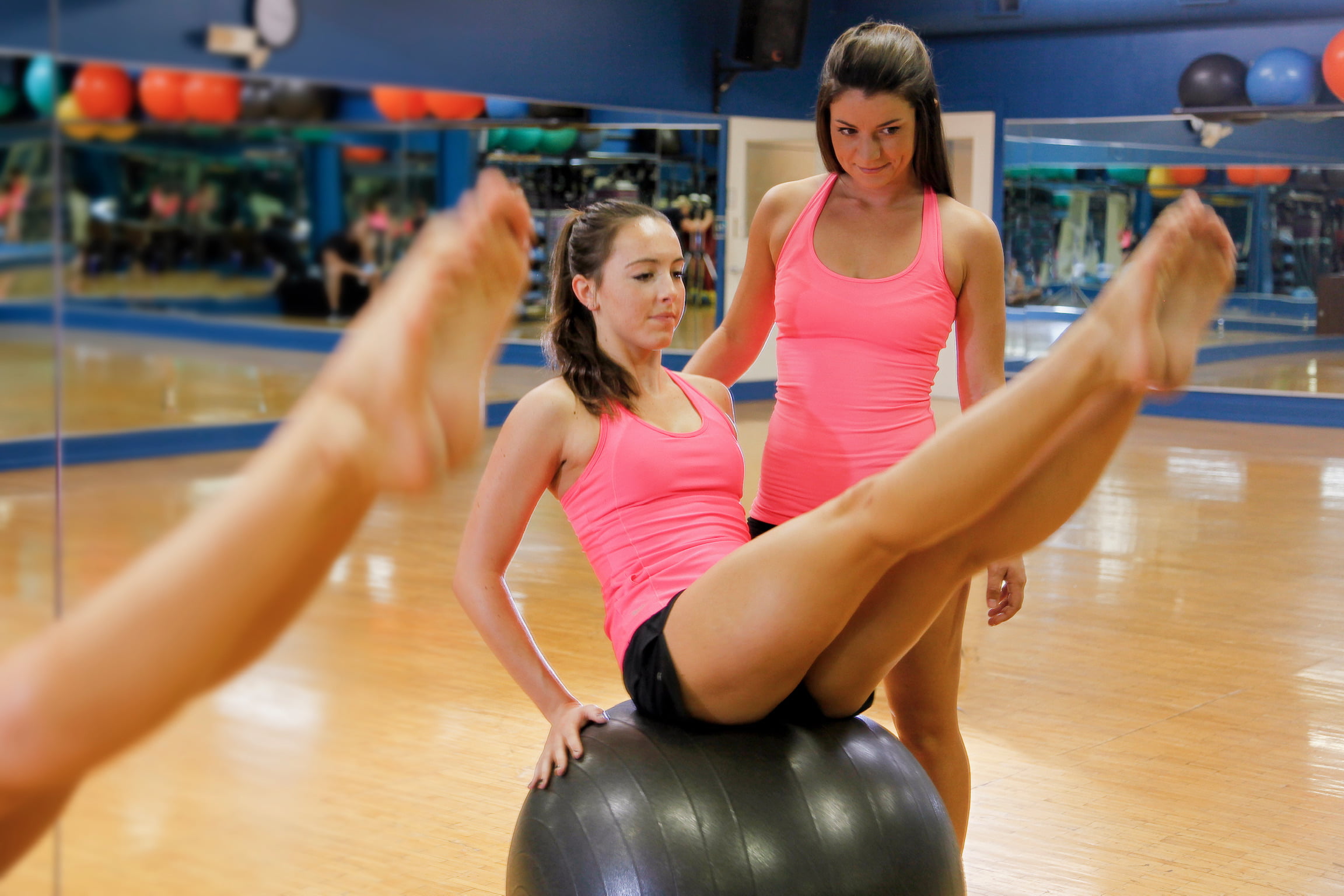 Yoga Burn & Cool
Go deep into your muscles in this fusion style class. Yoga Burn & Cool incorporates Yoga, Pilates, Cardio and Core Challenge followed by a cool down restorative phase.
Vinyasa Flow Yoga
A dynamic power class, Vinyasa Flow Yoga works to build endurance and core strength. The class then transitions to a relaxing and restoring phase.
Power Flow Yoga
A class with a blend of flow, strength, flexibility and breath work. Hold and flow through poses with added strength. Feel stronger and longer by the end of class!
Gentle Hatha Yoga
End your week with a smooth practice, beginning positioned on the back and connecting the body through breath. Mindful movements restore the body and remove stress and anxiety. Finish with guided meditation to renew after a long week!
Ripped
Group resistance training using weights, tubes, benches, Bosu Balls and stability balls. Focus on muscle endurance and functional fitness. Lots of intensity as you move from one exercise to the next. Get Ripped!
Cardio Power Interval
When it comes to overall fitness, interval training can produce the best results. Enjoy the power of cardio vascular endurance with intervals of resistance training. Rev up your calorie burning potential in this class.
Industrial Strength
This class utilizes a combination of resistance training with dumbbells, bars, tubes and your own body weight. Get the full benefits of functional, integrated movement for a head-to-toe work out. The focus on this class is muscular endurance and core strength using super sets.
GVAC Cardio Kick
Incorporating kickboxing and boxing movements, skills, and drills with bodyweight exercises and a bootcamp format, this class will kick your fitness to a new level! Learn the basic skills and techniques of the sport, while getting a killer work out for cardio and strength. This no contact class will challenge all skill levels from the novice to more experienced participant. Handwraps or gloves are strongly encouraged. Water and towel required.
Foundation Training
A series of exercises based on integrating the muscular chains of the body. Exercises begin with the Posterior Chain of Muscles (lower back, glutes, hamstrings, and calves) to quickly stabilize your spine and core because our modern lifestyles leave most of these muscles weak and imbalanced. Learning to connect the Posterior Chain will teach you to move naturally, evenly absorbing the weight of your body and fixing many of the chronic pains plaguing your daily lives. All ages and fitness abilities can benefit from Foundation Training because it teaches your body to move as nature intended. Paid class $15 for single class, package of 10 classes $10/class, first class FREE.
Stretch and Roll
This class incorporates use of the foam roller and a 3-step method to improve flexibility using strength, stretch and balance. Includes elements of dynamic movement along with periods of breath and relaxation. Suited for all levels of fitness and ability. Excellent to use after cardio or strength workout, or all alone.
Cycling
GVAC indoor cycling classes are designed for all levels of fitness and cycling experience. You'll focus on achieving your personal fitness goals utilizing heart rate monitoring, perceived exertion, cadence control and proper cycling form and technique. From novice riders to the most seasoned cyclists, we have classes to help you reach and maintain your personal training goals. Come to any class and work to your own potential. Water bottle and
Smooth Flow Yoga
Strong Yoga poses that smoothly flow from one to the other. Yoga Smooth Flow puts emphasis on transitions and strength.
Iron Yoga
This weighted workout takes Yoga poses to the next level. Focus on strength, positioning and technique. Basic Yoga experience required.
Pilates Yoga Fusion
A blend of classic Pilates mat exercises and Hatha Yoga geared to enhance core strength, create length throughout the body, and gain overall flexibility. In blending classic Pilates exercise and Yoga you will gain the benefits of strong, sculpted core along with creating a more flexible, balanced, and functional body.
Pilates Mat Method
A progressive series of exercises based on the work of Joseph Pilates that are derived from sports rehabilitation conditioning, dance, and yoga. This class works the body as an integrated whole to stretch, strengthen, align and balance the muscles. Evening classes offer a more challenging work-out.
Ultimate Core
This is NOT your average "abs" class! Learn to effectively and correctly use the muscles of the core to improve mobility and stability. Practice mindful and concentrated movements both standing and on the mat. Some equipment may be used.
GVAC Total Body +
Group resistance training using weights, tubes, benches, Bosu Balls and stability balls. Focus on muscle endurance and functional fitness. Lots of intensity as you move from one exercise to the next.
GVAC Boot Camp
Be prepared to sweat in this hard-core, high-energy class! You'll go through intervals of cardio and plyometric drills along with conditioning for "basic training" skills. Due to the intense nature of the class, it may not be suitable for all fitness levels. A towel and water are required.
Zumba
Zumba fuses hypnotic Latin rhythm and easy to follow moves to create a dynamic fitness program. This is one exhilarating hour of calorie burning and dance fun. No experience required.
Simply Stretch
A 3-step method to improve flexibility using strength, stretch, and balance, this class includes elements of dynamic movement along with periods of focused breathing and relaxation. Suited for all levels of fitness and ability, and excellent to use after cardio or strength workout, or all alone.
Aqua Aerobics
Strong cardiovascular, very low impact class performed in water. Get resistance all around for improving overall body strength.
Unleash Your Potential with Exceptional Fitness Classes in Santa Barbara – Goleta
Discover a new level of fitness with our diverse range of group workout classes in Santa Barbara – Goleta. Catering to all fitness levels and preferences, we have something for everyone. From high-intensity fitness classes for those seeking a challenge to more serene exercise classes that focus on mindfulness and flexibility, you won't be short of options. Conveniently located, you'll never have to wonder about 'workout classes near me' again! Experience the quality and variety of our fitness classes in Santa Barbara and let us be a part of your fitness journey. Transform your body, enhance your well-being, and boost your mood with our Santa Barbara workout classes today!
Rejuvenate Your Mind and Body with Yoga Classes in SB – Goleta
Breathe in serenity and exhale stress with our transformative yoga classes in Santa Barbara and Goleta. Our top rated gym offers a rich assortment of styles that cater to beginners and advanced yogis alike. With classes such as "Yoga Burn & Cool" and "Power Flow Yoga," you'll experience a perfect balance of fiery intensity and soothing relaxation. If you prefer a gentle practice, our "Gentle Hatha Yoga" will guide you through smooth poses in a calming atmosphere. For those seeking a dynamic, challenging, yet fulfilling experience, our "Vinyasa Flow Yoga" and "Iron Yoga" classes will invigorate your body and mind. Looking for 'yoga near me'? Our doors are always open for you to join our community, embark on your yogic journey, and find your inner peace.
Strengthen Your Core with Our Pilates Classes
Discover a unique blend of strength, flexibility, and control with our Pilates classes in Goleta – Santa Barbara. Designed to help you build a strong core and enhance your overall body strength, our Pilates classes are suitable for individuals of all fitness levels. Our dedicated Pilates club provides a nurturing environment for beginners and seasoned practitioners alike. If you're searching for 'Pilates near me', look no further. Our Goleta – Santa Barbara Pilates classes are just a short hop away from you, offering an enriching experience that will help sculpt your body, improve posture, and promote overall wellness.
Dance Your Way to Fitness with Zumba Classes
Add a dash of fun to your fitness routine with our vibrant Zumba classes in Santa Barbara. Zumba combines energetic dance movements with cardio exercise, offering a unique way to stay fit and have fun. Whether you are searching for 'Zumba classes near me' or specifically seeking 'Zumba Santa Barbara', we have you covered. Our Zumba dance classes are perfectly suited for all fitness levels and ages. You don't need to be a professional dancer to join us; all you need is a passion for staying active!
Power Up with Cycling Classes
Embrace the adrenaline rush with our high-energy cycling classes in Goleta. Catered to both beginners and experienced cyclists, our sessions are perfect for anyone searching for 'cycling classes near me' or 'cycling gym near me'. Enjoy the benefits of a comprehensive cardio workout without worrying about the weather outdoors with our indoor cycling in Santa Barbara. Not only are these classes a fantastic way to torch calories, but they also offer a great opportunity to strengthen your lower body muscles. All our classes are hosted in a state-of-the-art gym with cycling classes and top-notch equipment, ensuring you have the best possible experience. So come along and power your way through one of our dynamic cycling workout classes near you today!
Boost Your Stamina with Cardio Classes, Goleta – Santa Barbara
Ready to enhance your endurance and speed up your heart rate? Our cardio classes in Goleta – Santa Barbara are the perfect solution for you. Whether you're a local or someone searching for 'cardio classes near me', our facility welcomes everyone who wants to make their heart stronger and healthier. Our cardio exercise gym provides a variety of high-intensity and low-impact classes, suitable for all fitness levels. These cardio exercise classes incorporate a wide range of training techniques to help you achieve your fitness goals. Engaging in regular cardio training will help improve your overall stamina, burn calories, and boost your mood. So, are you prepared to sweat it out? Join us in one of our energizing cardio workout classes today and see the difference for yourself!
Ignite Your Fitness Journey with Spin Classes in Santa Barbara – Goleta
This dynamic, full-body workout is the perfect choice for those searching for 'spin classes near me'. Offering a challenging yet fun routine, our spin classes are designed to suit all fitness levels. It doesn't matter if you're a seasoned spinner or a beginner, our expert trainers are here to guide you and make sure you're performing at your best.
Join us in Santa Barbara for a spin class that promises not just a high-intensity workout but also an exciting, music-pumping experience. Or, if you're closer to Goleta, hop on one of our state-of-the-art spin bikes and enjoy an immersive ride that will leave you feeling stronger, fitter, and more invigorated than ever before.
After a high-intensity spin workout, wind down with one of our stretch classes. Focusing on improving flexibility, reducing muscle tension, and promoting relaxation, these classes are the perfect complement to your spin routine. Start your fitness journey today with our spin and stretch classes in Santa Barbara and Goleta. You'll be amazed by how good you feel!
Dive into Fitness with Swimming Classes in Santa Barbara – Goleta
Submerge yourself in a wave of fitness with our swimming classes in Santa Barbara and Goleta. Whether you're searching for 'swimming classes near me' or 'aquatic aerobic classes near me', we have got you covered. Our swim programs cater to all ages and skill levels, making us an excellent choice for anyone looking to incorporate swimming into their fitness routine.
Swimming offers an impressive full-body workout, targeting every major muscle group without any high-impact stress. So, whether you're an adult beginner or a seasoned swimmer, our swimming classes can provide a fantastic workout and help improve your overall fitness.
We also offer aerobic swimming classes, a fun and efficient way to burn calories and enhance cardiovascular health. These classes are designed to give you a thorough workout using the resistance and buoyancy of water to challenge your muscles in new ways, all while minimizing the risk of injury.
Dive in and get started on your fitness journey with our swimming classes in Santa Barbara and Goleta. Your path to better health could be just a swim stroke away!