Gvac Swimming pool and Jacuzzi
The Gvac swimming pool, jacuzzi, and open sun deck with lounge chairs is a one of a kind fitness experience. Our outdoor lap swimming pool is 25 meters long, 4 lanes wide, and 3 1/2 – 4 1/2 feet deep. Year round the pool is heated to about 80 degrees and the Jacuzzi to about 103 degrees. Because of GVAC's membership model no appointment is necessary and you will always find an available lane to swim and have plenty of room in our spacious Jacuzzi or grab a lounge chair to relax and get some sun.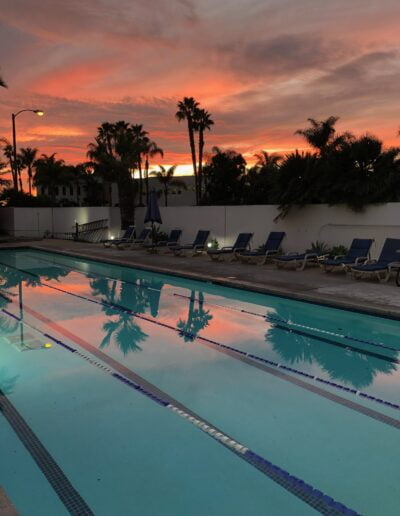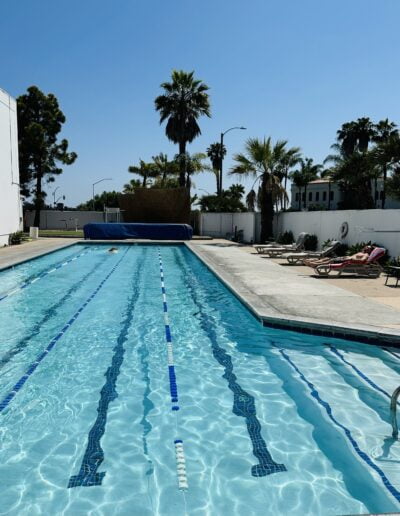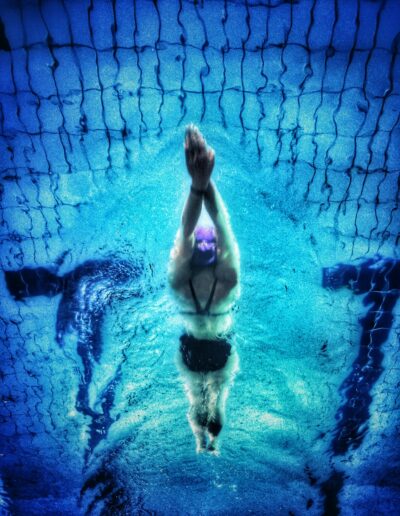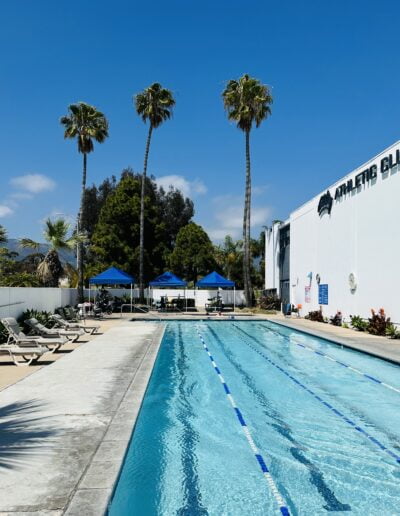 What is the current pool temperature?
What is the current hot tub temperature?
Is the pool currently open?
Is the Jacuzzi currently open?
Do I need to make an appointment?
No, because we limit our total membership you will always find a lane within a few minutes or less.
Dive into the Swimming Pool You Deserve: Experience Luxury & Fitness Today!
Ever dreamt of combining the serenity of a luxury pool with a rigorous fitness regimen? Your search ends here. For those wondering about the best 'swimming pools near me', our Santa Barbara swimming pool is the epitome of excellence and elegance. Boasting top-notch facilities, our Santa Barbara swimming pool is designed not just for leisurely laps but for full-body workouts that rejuvenate both mind and body.
For our Goleta residents, the Goleta swimming pool is a tranquil oasis offering the perfect blend of relaxation and exercise. What's more, if you're keen on integrating gym workouts with pool sessions, our 'swimming pool gym near me' option is tailor-made for you. Experience the synergy of luxury and fitness in one destination. Dive in today and discover a new dimension of wellness!"
Gym with pool Santa Barbara – Goleta: Where Fitness Meets Refreshment
Are you seeking a unique fitness experience that combines robust workouts with relaxing pool sessions? Look no further than our gyms with pools in Santa Barbara and Goleta. Our top-tier athletic club provides not only state-of-the-art workout equipment but also luxurious pools to cool down in after a rigorous session.
Are you wondering about 'gyms with pool near me' or 'athletic clubs with pool near me'? We have you covered. Our Santa Barbara pool is renowned for its serene ambiance and exquisite design, offering you a refreshing escape from your daily routine. Our gym with pool is strategically located to cater to fitness enthusiasts who desire that perfect blend of rigorous training and soothing relaxation.
Explore our incredible pools in Santa Barbara and Goleta today, and you'll soon realize that a fitness club near you with a pool isn't just a dream – it's a reality! Join us and elevate your fitness journey with a splash of luxury. Your perfect gym with a pool is just a call away. Dive into fitness like never before!"
Discover a Swimming Pool with Jacuzzi That's Tailored Just for You!
Indulge in the ultimate relaxation and fitness experience with our specially designed-swimming pool and jacuzzi! Nestled in a prime location Goleta – Santa Barbara, our facility offers an oasis of calm that's perfect for both intense workouts and tranquil escapes. Whether you're a fitness enthusiast looking for a "gym with a jacuzzi near me", or simply someone seeking the therapeutic comfort of a jacuzzi and swimming pool, we have something unique and tailored just for you.
Our pool with jacuzzi is not just a place to swim; it's a haven for relaxation. Feel the gentle caress of bubbling waters in our jacuzzi pool and let your stress melt away. For those who crave a more dynamic experience, our swimming jacuzzi provides a perfect blend of vigorous aquatic exercise and soothing warmth.
If you're looking for a gym jacuzzi that seamlessly combines luxury with functionality, look no further. Our state-of-the-art facility prioritizes your comfort and well-being, ensuring that every visit feels like a personal retreat. Join us today and discover the transformative power of water. Your perfect escape awaits!
In addition to our luxurious pool and jacuzzi amenities, our gym offers a comprehensive wellness experience that extends to mind and body. Imagine completing your workout and then easing into a gym with a sauna and jacuzzi, letting the heat and therapeutic bubbles rejuvenate your tired muscles. Or perhaps, after an intense session, you'd prefer our gym with a steam sauna, where the gentle warmth helps to detoxify your body, leaving you refreshed and invigorated. These experiences are not mere add-ons; they are integral to our wellness philosophy, providing a balanced and holistic approach to fitness. Whether it's a gym with a sauna you seek or a complete spa-like indulgence, our facilities are here to cater to every aspect of your well-being. Experience the difference today, and elevate your fitness journey to new heights.